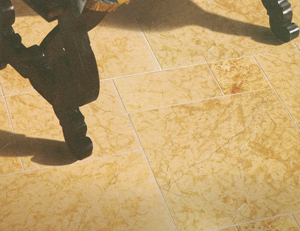 Travertine is usually what comes to mind when considering a natural stone floor. With its great texture and muted colors, it adds a wonderful organic feel to any area and mixes well with both traditional and modern designs. However, let us not forget granite and marble. These are usually thought of as counter top material, but throughout history were reserved for flooring in the homes and churches of royalty. The shine and rich colors give a very formal appearance even when used only as small accents in a patterned floor. Slate is another wonderful material when you are creating a more relaxed, informal environment. This stone usually has a wide variation in color as well as height from tile to tile. For this reason it is an ideal flooring for exterior applications such as porches and pool areas. Slate does not have to be grouted like your ceramic and porcelain tiles so there is little maintenance with this stone. Byrd & Cook carries several samples of different types and colors of natural stones. Stop by and let us show you how to bring the beauty of nature into your design and give your home a truly unique look. Visit the links below for more information on these name brand products.
We are not currently running any specials in "Flooring - Natural Stones". Please check back later for new postings. Thanks!

To see other specials we have, go to our Specials Page.