Byrd & Cook carries many types of floor covering available in today's market, and let's face it; not just any floor will do for your home. When choosing floors you may want to ask yourself a few basic questions that will help you to find the materials that are right for your space and your lifestyle. 
First, what area are you covering? A commercial building will require different performance levels than a home or home office. Make sure that you are getting the quality you need to serve your purpose. The room in which you are installing your new floor covering will guide you to the materials you need. For example bathrooms and wet areas will need to have hard surface flooring that is resistant to water, mold, and mildew. Entertainment rooms, on the other hand, require sound absorbent materials such as carpet. You may want to display an exotic wood plank on your floors to dress up a dining room or library. 
Next, ask yourself what tasks you will be performing in your room and how much traffic will this area incur? Are there pets in this area? A great room or bonus room will need a strong, long-lasting material that cleans easily. Hard wood, vinyl plank, laminate, and tile are all great options. There are also many carpets available that offer a stain guard coating and/or self-renewing deodorizers that repel odors. You might also consider a slip resistant tile for a pool house or porch. 
Lastly, what is your budget? It's always a great idea to have a budget in mind when starting home projects. Whether you are doing new construction or remodeling your existing home, it's very easy to go over your limit. 
If you have never done this before, you may be wondering where to start? That's easy. Make an appointment with a designer. Your designer will help you determine what type of floor covering is right for you. You don't have to choose the exact style and color yet. Once you have the material narrowed down, schedule an appointment to have your space measured. Now you can work a budget and decide exactly what flooring will perform for your needs, reflect your style, and make your home a showplace.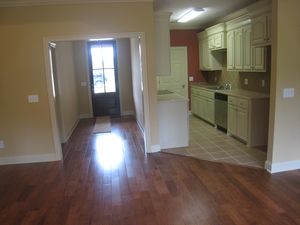 Visit our Photo Gallery to view more work done by Byrd & Cook!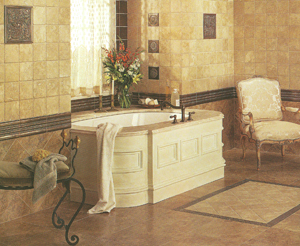 We are not currently running any specials in "Flooring". Please check back later for new postings. Thanks! 
To see other specials we have, go to our Specials Page.